Now Hiring! NCAPA National Director
The National Council of Asian Pacific Americans (NCAPA) is looking for a National Director.
Founded in 1996, NCPAPA is a  coalition of over 30 Asian Pacific American organizations around the country. Based in  Washington D.C, NCAPA serves to represent the interests of the greater Asian American  (AA) and Native Hawaiian Pacific Islander (NHPI) communities and to provide a national voice for AA and NHPI issues. With the organization at a critical juncture in its growth, this newly created position is a great opportunity for a candidate with strong organizational development and fundraising skills. The organization currently has two full time staff including a Program Director and Administrative Assistant who implement an annual Policy Summit, coordinate May Heritage Month events and activities, support day-to-day external and internal communications, and provide administrative support to the coalition.
To learn more about the job opening, please click here. Applicants will be accepted through Friday, September 12, 2014.
TO APPLY: please email single PDF with cover letter, 2-page resume, 3 references, and salary history to 
ncapajobs@ncapaonline.org

with subjectline

"NCAPA National Director."

Only applicants being considered for position will be contacted. Rolling interviews will be conducted for this position. No calls please.

To learn more about NCAPA, please visit www.ncapaonline.org.
---
 APALA, Alameda Labor Council, AFL-CIO 3 Day Organizing Institute
The Asian Pacific American Labor Alliance (APALA), Alameda Labor Council, and the AFL-CIO is proud to host a 3-Day Organizing Institute Program on September 5 – 7 in the Bay Area. The OI is intended to train APA rank and file members, community allies, students and young leaders to become effective union organizers. The purpose of the Organizing Institute is to train Asian Pacific Islander (API) member activists and member organizers in basic organizing skills. If you are looking to train member activists to work on internal or external organizing campaigns, we encourage you to send your members to the training.
Participants will learn:
One on One Communication Skills             How to Move Workers to Take Action
Leadership ID and Development                 Internal/External Organizing Campaign Techniques
Registration for the training may be completed on the OI website at http://www.AFLCIO.org/OI Participants must be pre-registered for the training by August 22nd. Walk-in registrations will not be accepted.  All fees must be paid by August 29th, unless other arrangements are made in advance.  We are not able to accept personal checks. Checks should be made payable to the Secretary Treasurer of the AFL-CIO, to the attention of Gail Tapscott. All fees and sponsorship forms should be sent to Gail Tapscott at 815 16th St., N.W., Washington, DC 20006.
---
 Just Ask College Guide
Just Ask is a comprehensive college guide for students and parents that provides a checklist on a wide range of questions and issues broken down into four categories college costs, instructional and academic services, college and life services and campus safety. Thousands of students and parents have already used the guide to find the right college for them.
View College Guide: JUSTASK 2014_College Guide with Partners
---
 Register to Vote on September 23
Want to plan your own National Voter Registration Day event? Visit the "Partner Toolkit" page on our new NVRD website. There, you'll find all the resources you need to plan a successful event.
Also be sure to register as a partner by Thursday, July 31st to receive free field materials!
http://nationalvoterregistrationday.org/resources/partner-toolkit #CelebrateNVRD
---
2014 National Immigration Score Card
On July 28, 2014, National Latino, Asian American and Pacific Islander groups, labor and Evangelica leaders  (APALA, Hispanic Federation, JACL, LCLAA, NCLR, Mi Familia Vota, NAKASEC, OCA, and VotoLatino)  announced an unprecedented alliance and civiv engagement initiative by releasing the 2014 National Immigration Score Card. This Immigration score card shows how Congress has failed on the issues of immigration on reform. This report also shows how the scores of several members were knocked down by leader's refusual to bring the floor immigration legislation that could have passed the House.
This National Immigration Score Card is accessible and available online at: www.immigrationscores.com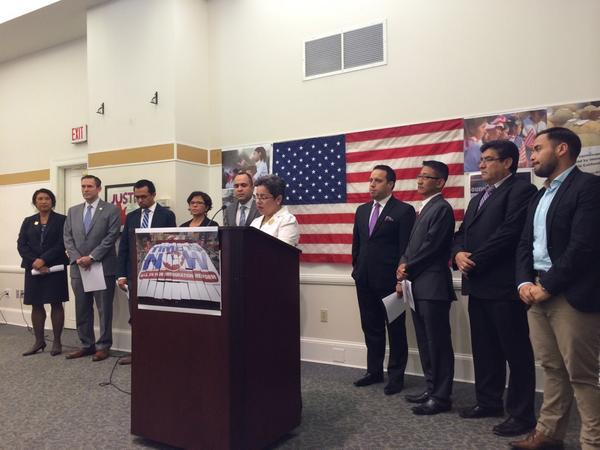 ---
All Students Count Day of Action
The All Students Count Act is a bill from Congressmember Mike Honda that would require State Education Agencies (State Departments of Education) to report disaggregated data at the K-12 levels for their annual state report cards based on the 2010 Census. It would divide the Asian American ethnic group into: Asian Indian, Chinese, Filipino, Japanese, Korean, Vietnamese, and Other Asian (fill in the blank).Similarly, Native Hawaiian and Pacific Islander (NHPI) data would be broken into: Native Hawaiian, Guamanian or Chamorro, Samoan, and Other Pacific Islander (fill in the blank).The legislation would also allow for the cross-tabulation of gender and disability (ex. Female-identified Vietnamese student).
On July 23rd, 2014 AALDEF, APALA, JACL, OCA, National Women's Law Center, and SEARAC are hosted a rally for the All Students Count Act. Students, educators, and the community, concerned about public education in the United States, came together for better data collection and reporting to better support students and better reflect the incredible diversity of our country.
To learn more about the #AllStudentsCount Campaign, please visit:
Tumblr:
www.allstudentscount.tumblr.com
List of Organizations who already endorsed the act:
http://www.searac.org/sites/default/files/2014.06.26.OrgEndorsement_ASC_0.pdf
To Sign Up and Endorse:
https://docs.google.com/forms/d/1cVp_PtfqcHJ9LE7PKtmKBM0_mEKEEVrMDy6BADblUGo/viewform
---
Power Check Day on August 5, 2014
Have you checked your power lately?
On August 5th,  join Asian Pacific American Labor Alliance (APALA) in reminding voters to verify their power by checking their voting status. We believe in our power to vote on issues that impact our communities!
#PowerCheck your voting status at www.canivote.org and connect with your state registrar's office
#PowerCheck out the website for more information http://www.866ourvote.org/pages/power-check-day
---